2019, What's your dream Safari vacation destination, or still wandering on late night internet search for one?  Search no more, got a mind-blowing list for an unforgettable Safari experience in the Pearl of Africa.
Uganda's Safari Lodges offers a crystal-clear opportunity to venture into vast nature and wildlife with a surety of safety and splendid wildlife viewing opportunities. Safari lodges are located in the remote destinations in National parks, forests, lakes with abundance of wild game, birds and local communities to interact with. Epic photo Safari with best shots ever for photographing wildlife. Here is 8 luxurious Safari Lodges;
Chobe Safari Lodge
Chobe Safari Lodge is quite a spectacular luxurious lodge nestled in the Murchison falls National park. The 5-star lodge is a unique treasure with an amazing ambience, peaceful and definitely unveils your dream Safari vacation to reality. Recently visited by Kanye West , Kim Kardashian and their daughter North West.
No need to deny that, this lodge boasts of serving all it's guest with an authentic luxury experience and an adventure Safari in the park with quality service.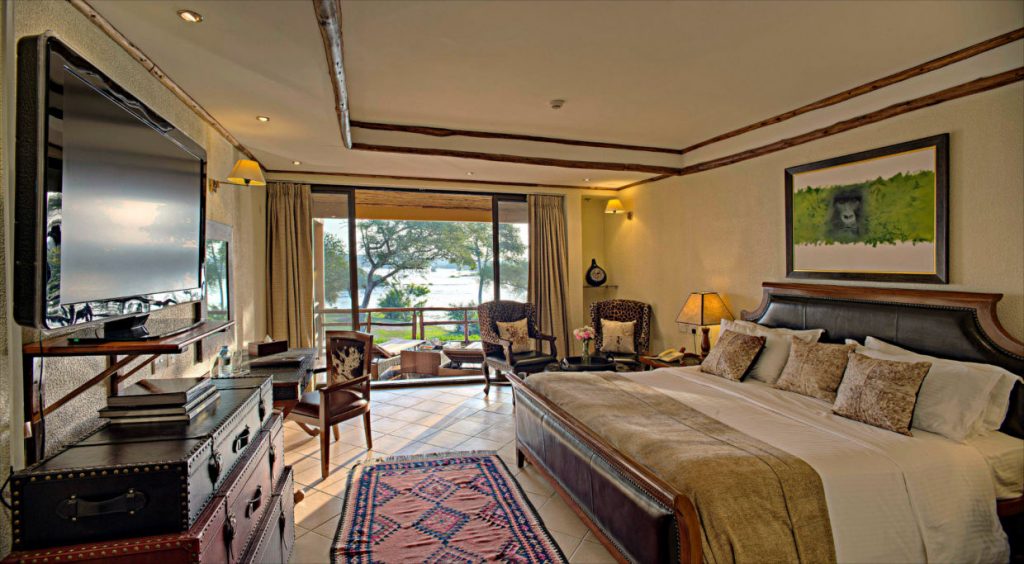 The rooms are splendid, luxurious, spotlessly clean, uniquely decorated, spacious, bathroom with all amenities and features more facilities like swimming pool, Karuma Restaurant, Business center, gift shop, conference facilities and the Karuma bar.
While at the lodge, engage in activities like fishing, Safari drive, nature walks, visiting Murchison falls, Bush breakfast.Book your stay at https://chobelodgeuganda.com
Clouds Mountain Gorilla Lodge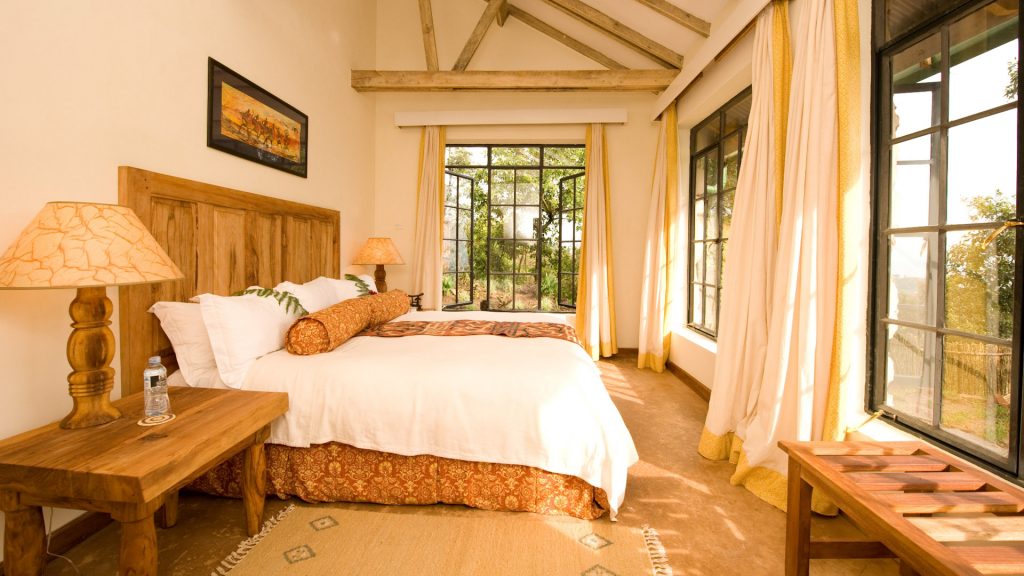 One of a kind, Clouds Mountain Gorilla Lodge offers an incredible opportunity of a gorgeous view of lush green rain-forest. Perfectly located in the southern part of Bwindi National Park and is the highest lodge in Uganda over 2000 feet above sea level. Clouds lodge is a paradise for lovers of wildlife, birding, trekkers, nature and amazing view of the green rainforest, Virungu volcanoes, the rift valley and Congo.
The incredibly tranquil lodge setting, deep and yet elevated in the thick impenetrable rainforest boasts of awesomely modern Cottages crafted out of the volcanic mountain stones with each featuring a spacious, comfortable bedroom, bathroom with walk-in-showers, lounge and a blazing fireplace that keeps you warm and cozy. Private butler and housekeepers are assigned to each cottage to attend to the guests.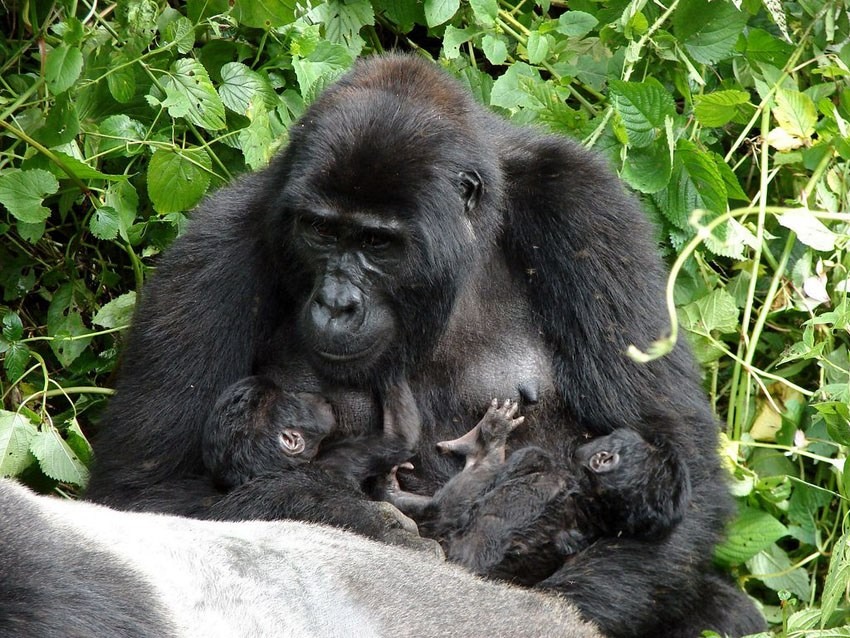 The main activity at the lodge includes Gorilla trekking and others like bird watching, nature walks and many others.Book your stay at https://www.wildplacesafrica.com
Mweya Safari Lodge
Mweya Safari Lodge, is a truly charming lodge perfect for travelers who desire to connect with nature away from the hustle and bustle of big towns. Beautifully situated on a peninsula within the heart of the Queen Elizabeth National Park. Offering its guests, a mesmerizing view of the Kazinga Channel and gorgeous mountain of the moon- Rwenzori Mountain.
This lodge will rekindle your spirit, reignite the soul and reconnect you with incredible nature, wildlife in the surround and well-maintained gardens. Surrounded with wild animals like lions, buffalos, giraffe, elephants and some even wander around the property.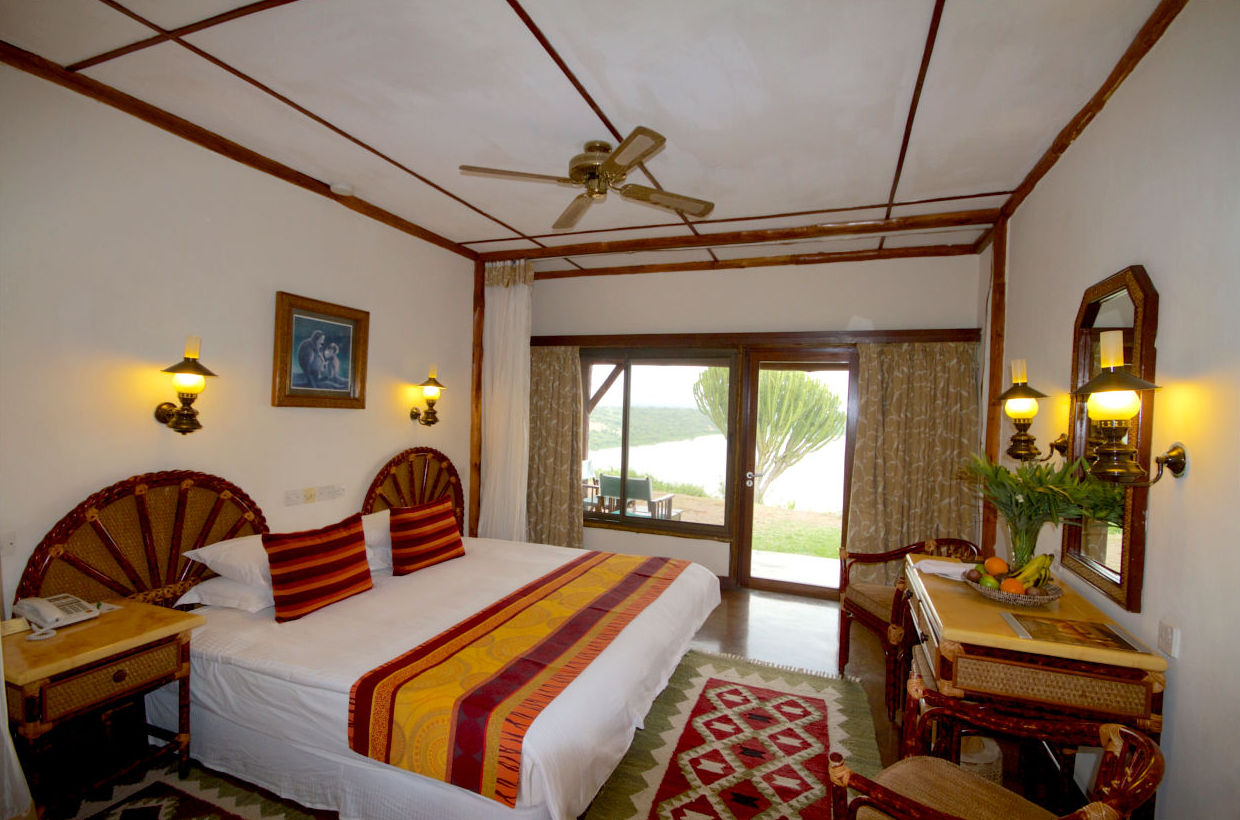 Mweya Safari Lodge boasts of its luxurious accommodation, facilities and outstanding services that keeps their guests satisfied and coming back. Beautiful cottages and impeccably clean room, spacious, nice bathrooms with all amenities worth a comfortable stay in the wilderness. Other facilities include an amazing swimming pool with a great view of the channel, Restaurant, Business center, gift shop, conference facilities and the Tembo bar.
Incredible activities at the lodge includes Birding, safari drive, water safari, chimpanzee trekking, katwe explosion crater and many others. Book your stay at https://mweyalodge.com
Apoka Safari Lodge
Apoka Safari Lodge is a remarkably luxurious lodge in the wilderness, perched on a small hill with Kidedo National Park- one of the greatest parks in Africa with a beautiful view of the Savannah Vegetation. The lodge is excellent, the location is fantastic- offering a distinctive wilderness setting and experience dwarfed by the majesty of the Savannah landscape. Animals are abundance and can be heard, viewed effortlessly from every angle of the lodge- the rooms, Veranda and private outdoor soaking tub.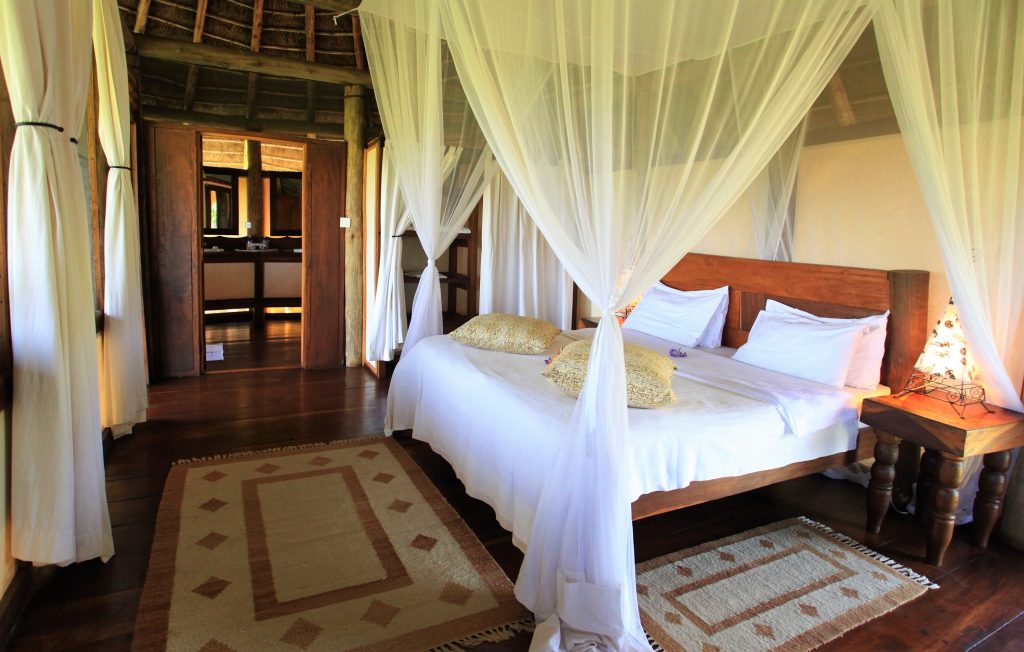 The accommodation is of a first-class. Simply impressive and breathtaking with a central dinning area overlooking the waterholes allowing you to view wild game coming to quench their thirst. The cottages are amazingly decorated with an African touch that beautifully blends the surrounding. The rooms are spacious, clean and offers a magnificent view of the glorious savannah landscape. Enjoy a perfect swim at the skillfully crafted swimming pool at the edge of the rock.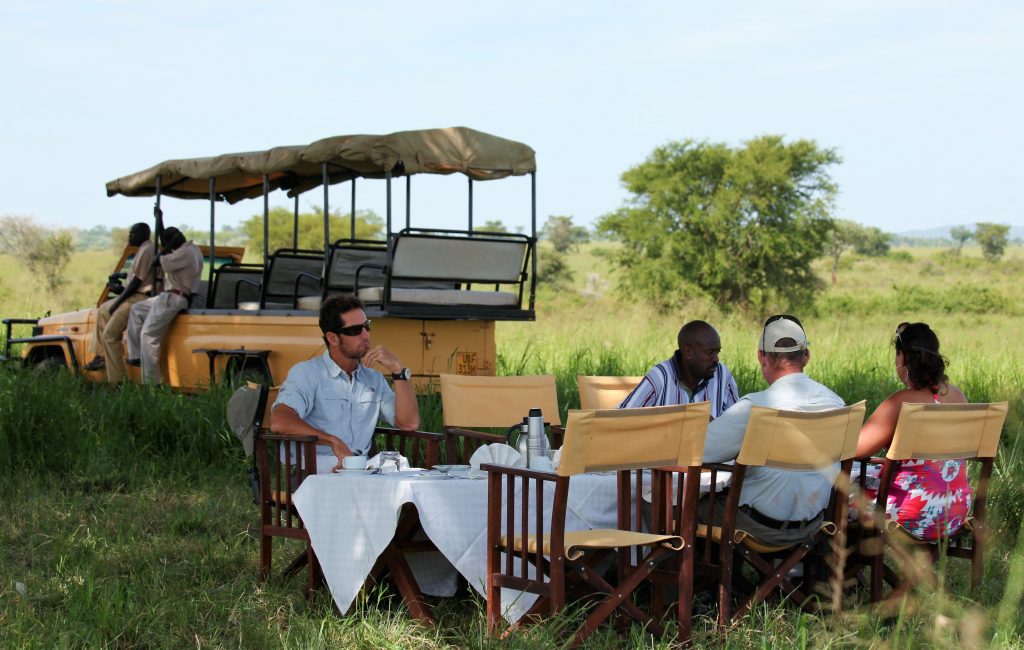 Must do activities include game drive and many others. Book your stay at https://www.wildplacesafrica.com
Paraa Safari Lodge
Paraa Safari Lodge, is just spectacular in the serene wilderness located in Murchison falls National park. The lodge boasts of its closeness to the mighty Murchison falls where its guest enjoys thrilling experience of the incredible power of nature- a must visit. https://lakisblog.com/waterfall-chasers-5-most-beautiful-waterfalls-in-uganda.
Paraa lodge offers exquisite accommodation enclave of lavish cottages, suites, double, twin and single rooms, en-suite private bathroom all having breathtaking views of the Nile river from the balconies. The swimming pool makes a perfect place for a cool refreshing deep after a long day of Safari drive. Perfect dinning at the restaurant with a sweeping view of River Nile.
When it comes to activities, be sure of a good time birding, safari drive, visiting Murchison falls, nature walks, Hot-air balloon Safari and bush breakfast. Book your stay at https://paraalodge.com
Semilik Safari Lodge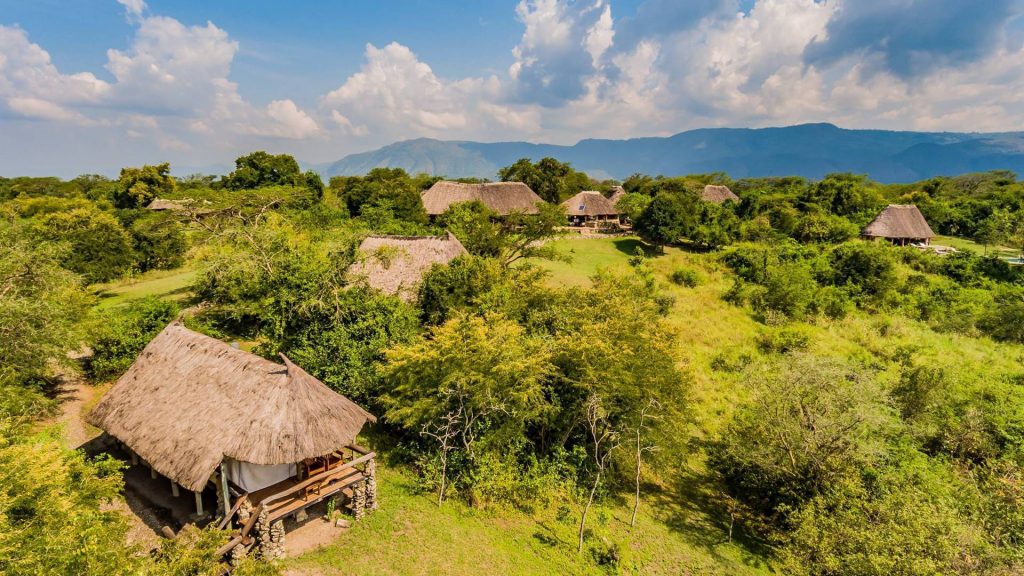 Semilik Safari Lodge is a jewel in the wilderness situated in the Semiliki wildlife reserve. The lodge is gorgeous tucked in a remote destination in the Semiliki valley, Semiliki forest that houses an array of beautiful birds, baboons, monkey, forest elephants.
The lodge hosts charmingly thatched roof golden-hued tents, en-suite bathrooms, each room has a veranda with a stunning panaromic view of the mountains and savannah forest and rift valley.
Activities includes chimpanzee trekking, extensive walking trails, boat trips on Lake Albert and Visits to the pygmies. Book your stay at https://www.wildplacesafrica.com
Enjoy your 2019 Safari in Uganda!!
Signed