Lake Bunyonyi Rock Resort offers the real feel of Uganda's natural beauty. Nestled in a quiet, gorgeous shores of Lake Bunyonyi in Kabale District. Everything at this resort has got an African touch- what a beautiful way to experience Africa.
Isn't it worth a dollar, visa and ticket to get away from the hustle and bustle of the big cities and dive straight into a natural gem in Uganda with comfort, exclusivity and spectacular view of the lake? Am sure anyone who visits this resort leaves with a sense of fulfillment instead of regrets.
We made a stopover at this resort as we were cycling around Lake Bunyonyi and simply feel fell in love with its beauty. We took snacks and checked the facility around.
So here is what we liked about Rock Resort…….
Compound
Well maintained ambience- not quite big but with a well thought design to make you feel comfortable during your stay.
We tried the swing, taking photos on the small rock and also resting at the lounge by the lake.
Cottages
Lake Bunyonyi Rock Resort have wonderful cottages surrounded by peace, tranquility and beauty. Each cottage overlooks the breathtaking lake and the over lying hills. Seating on the balcony is one of the way you can relax and enjoy the view the gift of nature has to offer.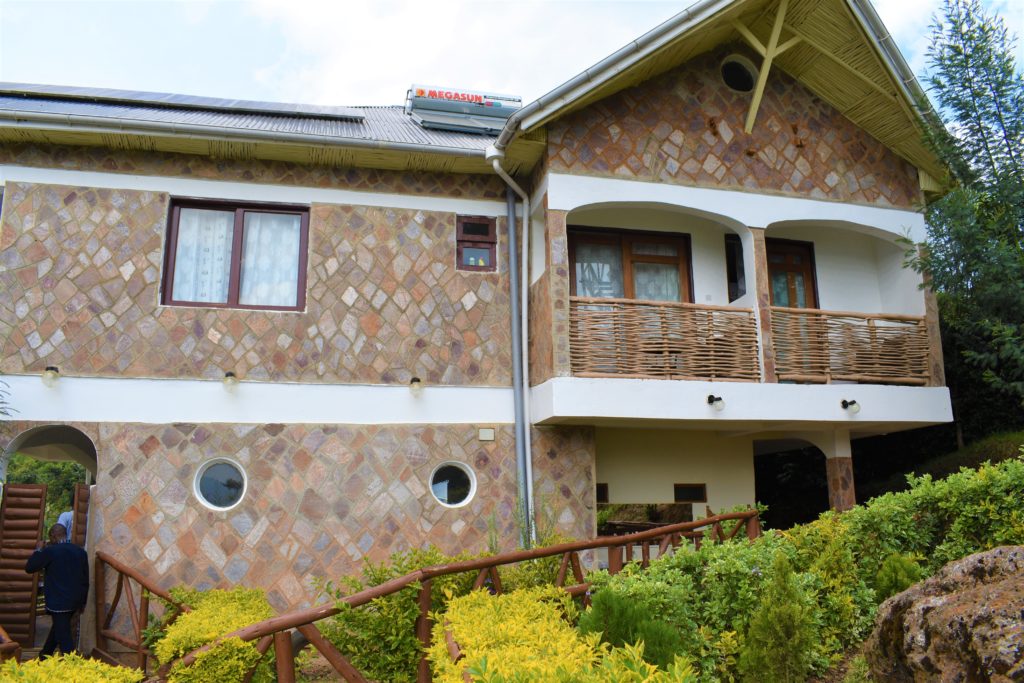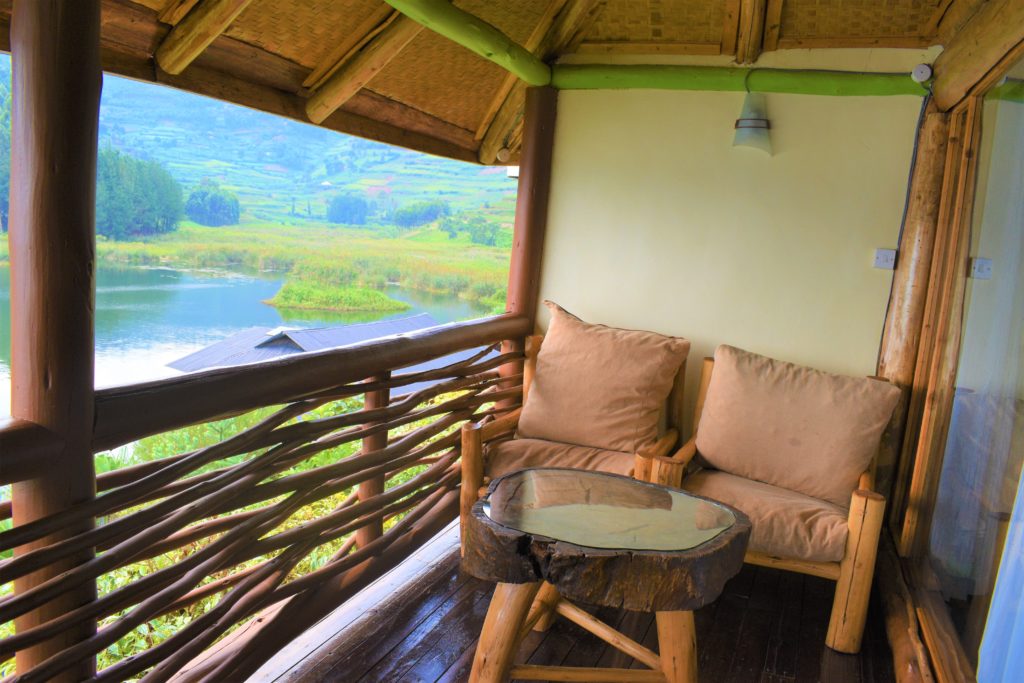 Room
The rooms are so adorable, spotlessly clean, spacious and stylishly designed with an African touch all through. The African impression doesn't fade when enter the room. The rooms features a cozy bed, dressing mirror, wooden shoe rack, coffee table and wall hangings. The large glass doors and windows offer maximum natural light to the room and African print curtains.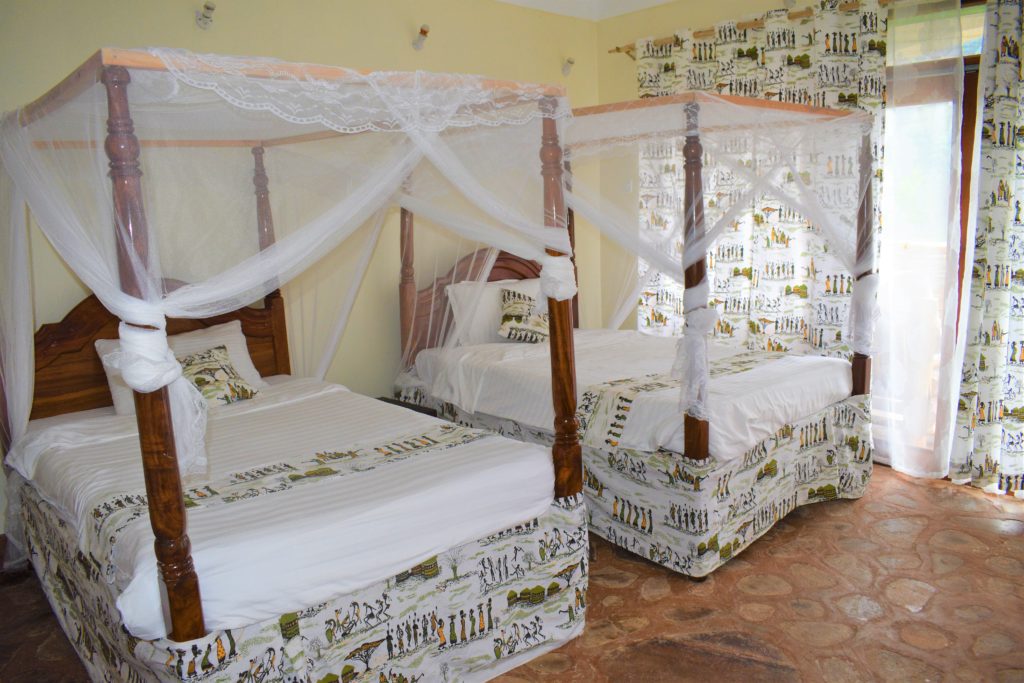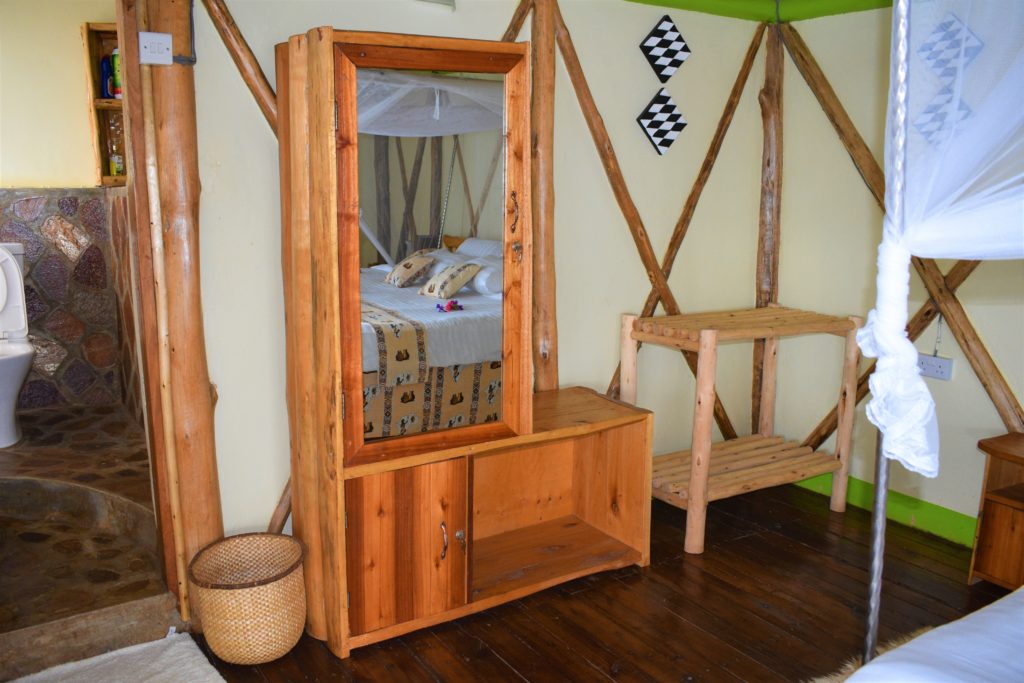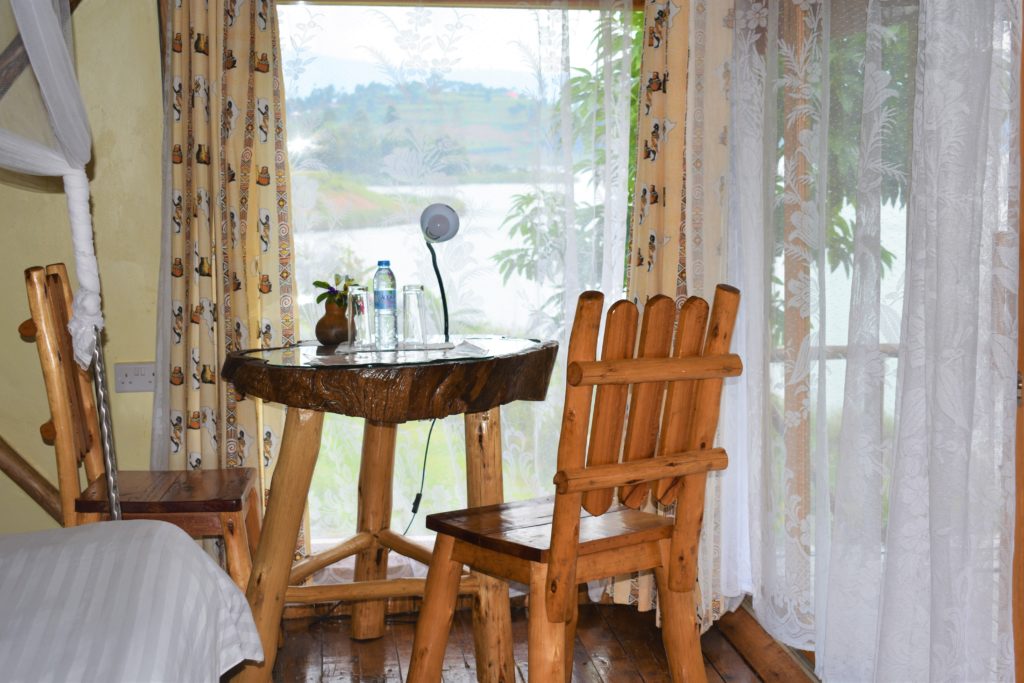 Bathroom
The bathroom was so unique with unique smooth rock tiling on the floor and wall. It's clean, sizable and thoughtfully designed. The white sink beautifully blends the mirror with a wooden frame. The toilet is clean with a large window overlooking the lake. The bathroom features a head shower, white towels, bathtub and other amenities.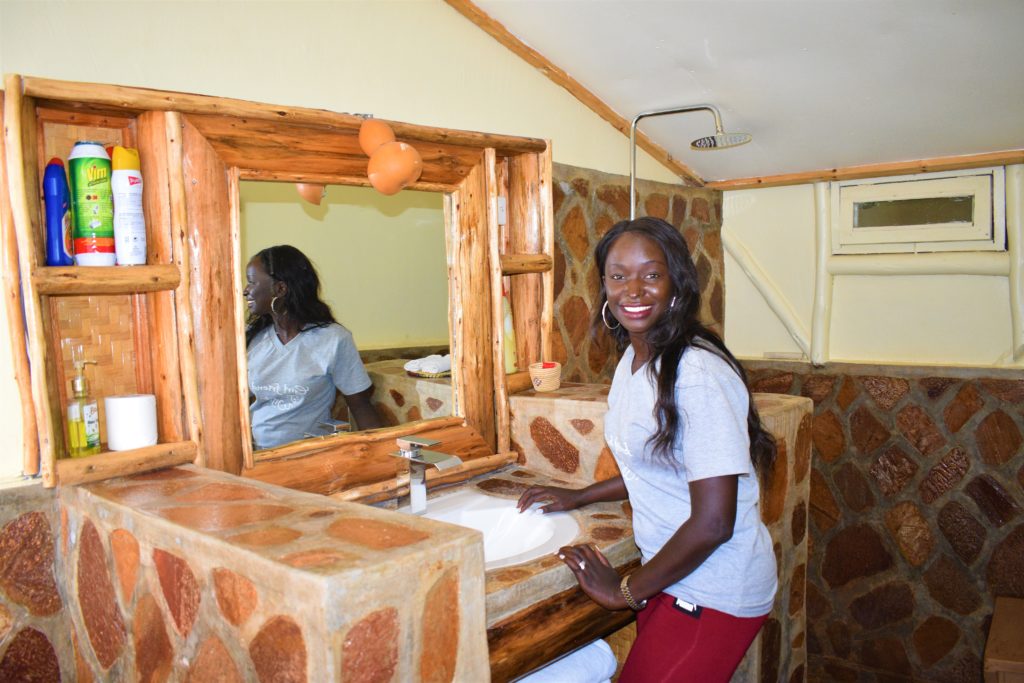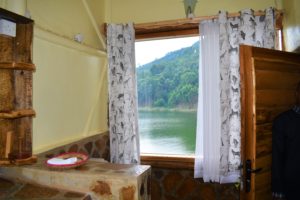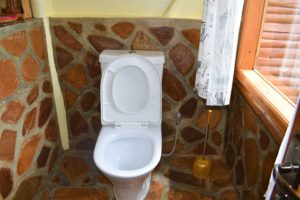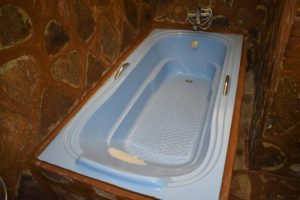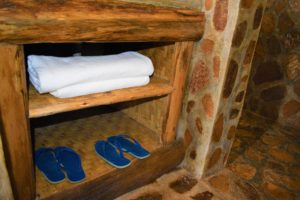 Restaurant
We had snacks at the restaurant and I must confess it was the best choice we made to stop over. Beautifully decorated with wooden furniture and a view of the lake. We enjoyed our bites with a cool breeze and captivating view. The restaurant has a partition of African craft items that can be bought and taken as a souvenir by guests.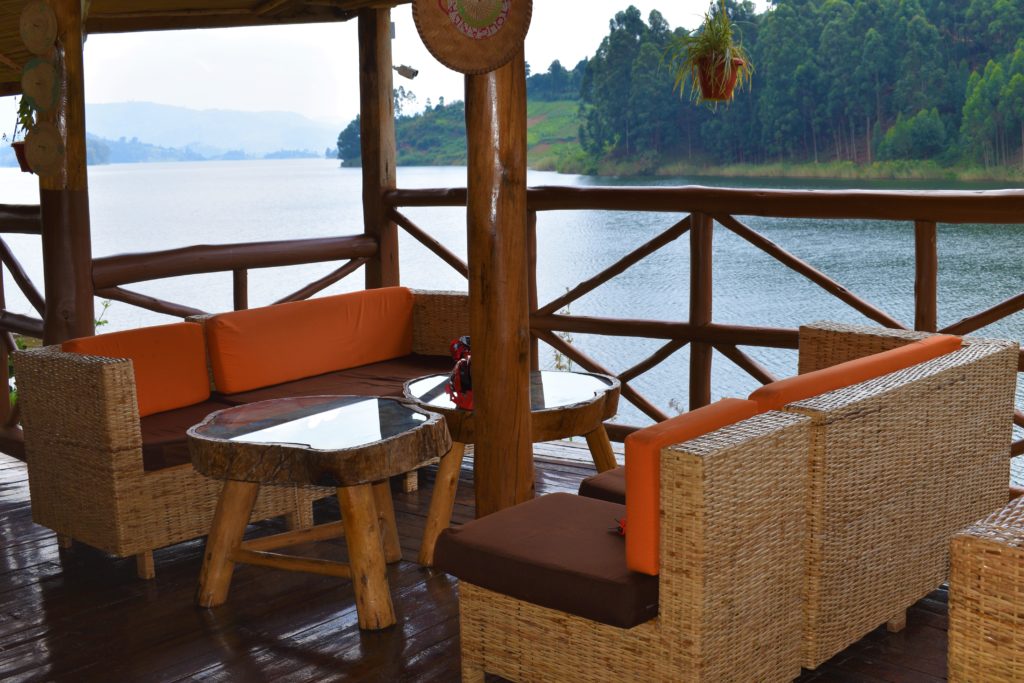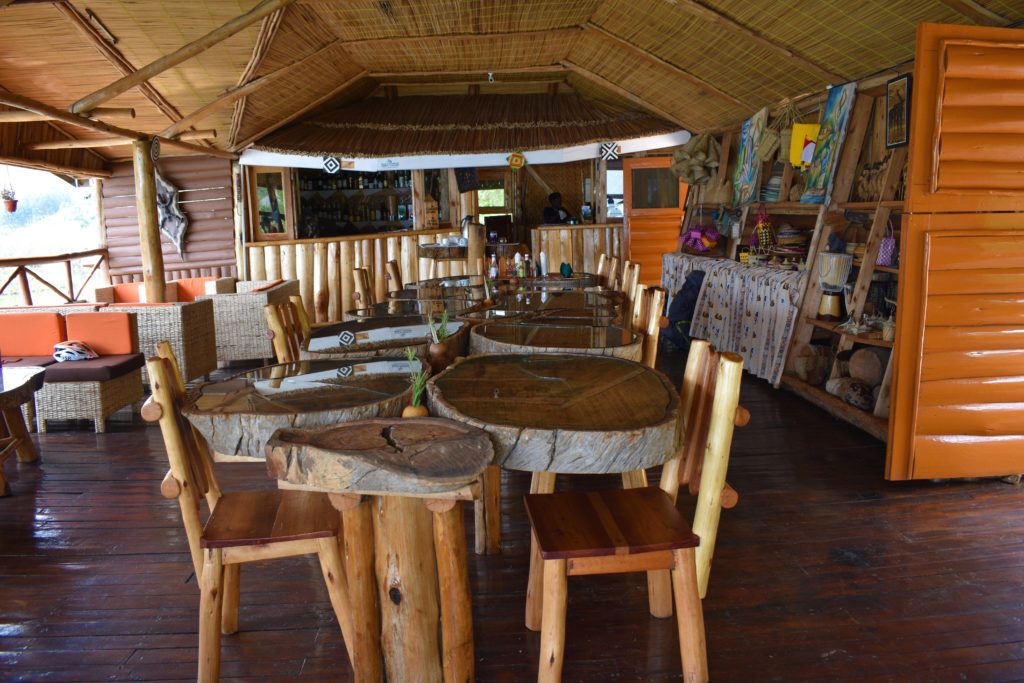 Swimming
For inexperienced swimmers, chilling on the lounge chair will be an ideal thing to do. Relaxing, sunbathing, and watching the beautiful sunset over the lake is just magical. For experienced swimmers, it can really be a great activity to do- though it's totally at owner's risk.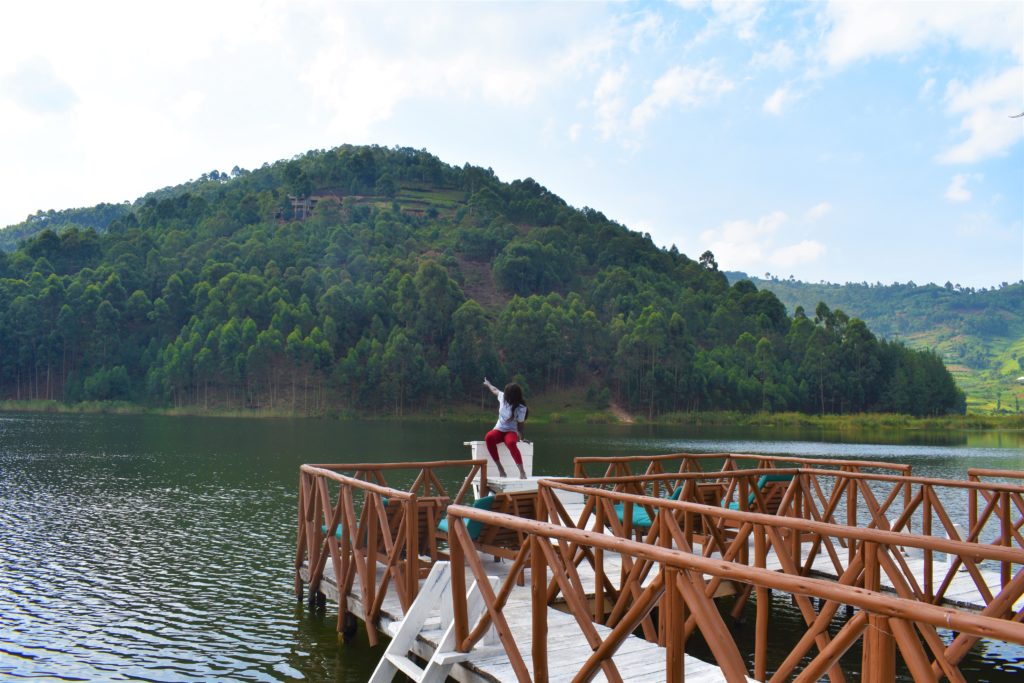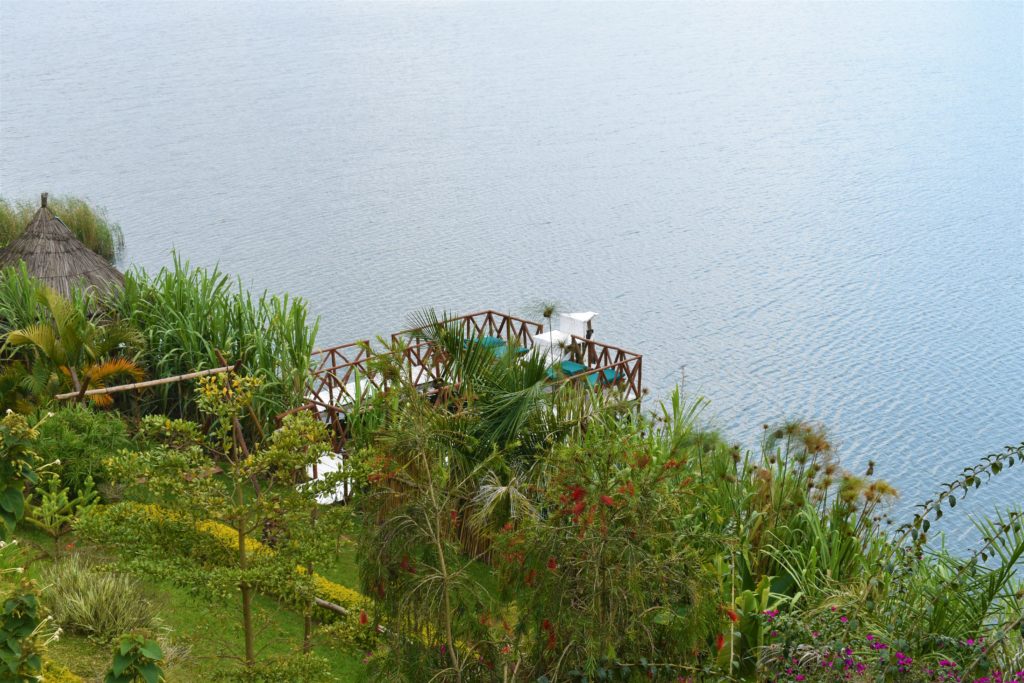 Final thought
Lake Bunyonyi Rock Resort is a must visit place for a peaceful and memorable holiday. Activities includes Boat cruising/canoeing, swimming in the lake, mountain Gorilla trekking, Golden monkey Trekking, Bird watching and Batwa community visits among others. Professional, friendly, attentive staff. We loved the services they offered for our short stay at the resort. Lovely place and would recommend a visit to absolutely anyone visiting Uganda.
Book at www.lakebunyonyirockresort.net
Impressed by this review? Well check out my other hotel reviews. Sharing is caring!!
Signed