Island Lovers!!, here is a super-hot deal to drop in your bucket list. Vacation on Lake Bunyonyi. Better still, Easter holiday on one of these magical Islands.  It is a place to visit before you die- miraculously refreshing, affordable, romantic and beautiful. Perfect for taking epic pictures, definitely carry your camera and capture every moment of your great stay at the Island.
Lake Bunyonyi is beautifully situated 7km west of Kabale town, South Western Uganda. Lake Bunyonyi is truly a Paradise for birds "A home for many little birds" where it derives its name with over 200 bird spices. The lake appears on the 5,000 Ugandan Shilling note under the title "Lake Bunyonyi and terraces".
Blessed with over 29 Islands with different shapes and sizes endowed with natural attractions beautifully dotted on the lake. Moreover, this spectacular lake is the deepest in Uganda and second deepest in Africa-  Uganda's natural splendor.
Swimming, this fresh water body if free of bilharzia, dangerous wildlife like crocodiles, hippos making it safe and friendly for swimming. For inexperienced swimmers, take caution of the depth of the water.
Bird watching, Lake Bunyonyi is wooded with many species of beautiful, colorful little birds.
Species of bird includes weavers, grey crowned crane, the white tailed blue monard, the herons, the African Harrier Hawk, the egrets, slender-billed baglafetch, levillant cuckoo, levillant cuckoo, and the cardinal woodpecker.
Canoe, visit all the Islands with a tour guide on a dugout canoe and get to know the history attached to them. You can hire your own canoe and adventure the beauty of Lake Bunyonyi.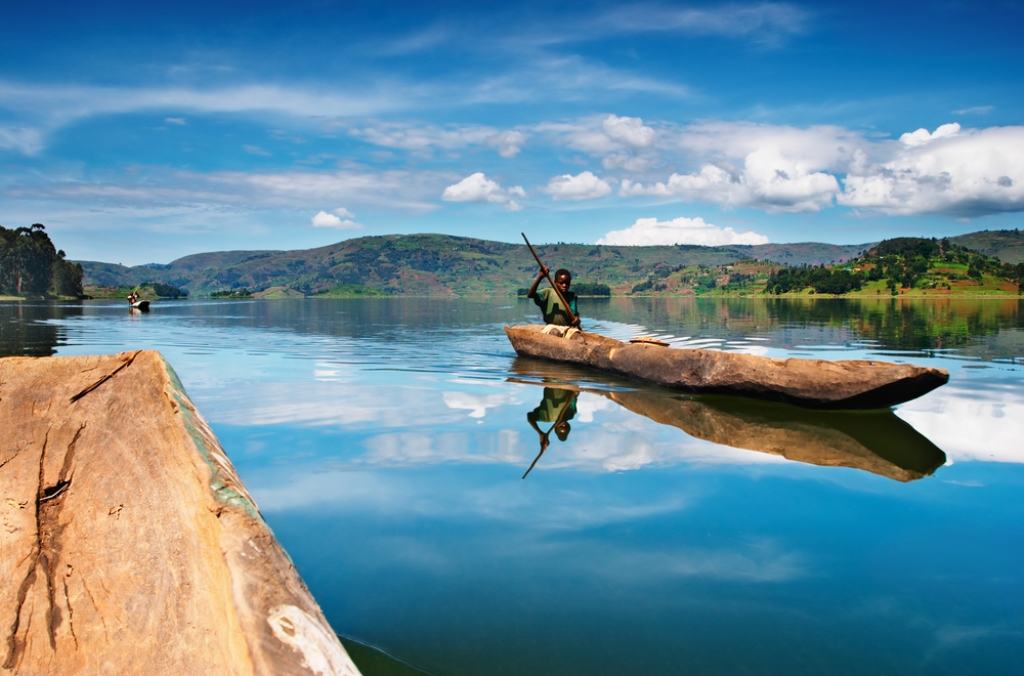 Resorts, Lake Bunyonyi resorts are one of the best travel destination you could ever dream of staying while on your visit to the Islands. Gorgeous Resorts with refreshing activities like Canoeing in a dugout canoe, hikes, bird watching, nature walks, Island hoping, camping at the shores, community visits. The resorts provide the tastiest foods, comfortable accommodation and facilities, outstanding services by genuinely friendly, welcoming and professional staff. Whatever your desires are, you will find it all here!
8 Islands Resorts on Lake Bunyonyi worth your stay
Bunyonyi Safaris Resort
Hideaway Jewel at Lake Bunyonyi. Lovely place for a luxurious retreat, wedding, honeymoon and vacation with an amazing scenery, beautiful gardens, stylishly built, decorated, furnished rooms and cottages with magical views of Lake Bunyonyi.
This place is second to none- designed to make your stay lavish and memorable. Things to do at the resort includes Ecotours on sites, playground, rowing or canoeing, fitness classes, boat tours, bicycle rentals, mountain biking, hiking/biking trails, Volleyball and yoga classes/instruction on site. "A fantastic place to stay".
Book now @ www.bunyonyisafarisresort.com , sales@bunyonyisafaris.com
 Crater Bay Cottages
Crater Bay Cottages offers a very chilled and serene atmosphere with a stunning setting over the lake with sun loungers on the water edge, a swimming deck, beautifully well maintained green gardens surrounded by trees, plants and birds.
Crater Bay accommodation facilities are very clean consisting of 8 rooms, cottages and tents. Activities at Crater Bay Cottages includes; birding, swimming, canoeing, hiking, water safaris, cultural safaris and Island Trails. "A fantastic place worth a visit".
Book now @ www.craterbaycottageslakebunyonyi.com , craterbay@yahoo.com
Arcadia Cottages
Stunning views of the magnificent lake Bunyonyi and all its Islands can only be fulfilled at Arcadia Cottages. Its located at the top of the hill with over 25 beautifully designed, impeccably clean cottages with balconies overlooking Lake Bunyonyi.
What to do at the lodge includes; Birdwatching, View and nature painting, Motor launch for lake cruises, Community visits, Local dancers & entertainment, Quadbiking, Hiking, Mountain bike climbing Jetskiing. "For a life changing Island experience- Arcadia Cottages is the place to be"
Book Now @ www.arcadialodges.com , arcadiacottages123@gmail.com
Paradise Eco-Hub
Paradise Eco-Hub- a charmingly beautiful Island. An absolute paradise that will give you an authentic Island experience and opportunity participate in their social mission of improving the lives of those around them at your own will. "A Paradise to stay at Lake Bunyonyi".
Book now @ www.paradiseecohub.com, info@paradiseecohub.com
Supreme adventure park
Supreme Adventure park is the closest Island of all the Islands on the magnificent Lake Bunyonyi. There is nothing as compared to having an adventure park experience on an Island- Supreme adventure park has that full package with activities like Zib-line cable crossing, visiting key sites, High ropes course, canoeing, Birdwatching, Batwa visit.
Luxury accommodations includes Deluxe safari tents, Log Cabin and Luxury Safari tents. "Best park fun you have to experience"
Book now @ www.supremeadventurepark.com , info@supremeadventurepark.com
 Etusi Resort and Retreat Center
A place to reflect, recharge and relax. A great escape from the chaos of the city to simply unwind and refocus. It's a unique destination on the shores of Lake Bunyonyi for travelers, students and community leaders accessible by boat.
Accommodations includes, Dorm Tents, Furnished tents and Cottages. Enjoy Gorilla trekking in Bwindi national park, Bird watching, Boat yours, swimming, Hiking, Fishing, social & cultural visits and volleyball. "Gorgeous, worth a visit".
Book now @ www.entusi.org , raymond@globallivingston.org 
Bunyonyi Overland Resort
Bunyonyi Overland Resort- Ecologically built, with local materials offering a spectacular view of Lake Bunyonyi. This is the best base to go Gorilla trekking in the national parks of Uganda or Rwanda.
Accommodations is provided in comfortable tents, rooms, cottages and family cottages. Activities includes; volleyball, badminton, indoor games, swimming, canoeing, boat-motor hire, bird watching, mountain biking, fishing, community walks, twice weekly local market
Book now @ www.bunyonyioverland.com , resort@bunyonyioverland.com
Bushara Island Camp
Relaxing, peaceful and serene Bushara Island Camp is set on a private Island on Lake Bunyonyi. No doubt you will love this Island. Various activities include canoeing, hiking, swimming, fishing, birdwatching. The choice of accommodation is yours; tree house, lodges or camp your own safari tent and enjoy the comfort. "A perfect place for relaxation worth a visit"
Book now @ www.busharaislandcamp.com , busharaislandcamp@gmail.com
Have you been to Lake Bunyonyi?, Share your experience in the comment below.
Signed