Of recent, I had a pleasure of visiting and trying out the menu of Roastphere Café. It's located at Buganda Road at Senana Hyper Market Opposite Watoto Church.
I had been eyeballing this Café from the time I saw their banner of smoothies as I was getting out of Senana Supermarket.  I told a friend who had the same interest of visiting this seemingly nice café- so that evening finally arrived and we headed for dinner.
We walked inside and were delighted of how lively and gorgeous this place was. The inside is fairly small but has an extension on the outside, accommodating more tables. The wall murals have a touch of excellence with comforting cool wall paper color. Your choice of where to sit will still serve you that comfort you need.
We were served with two menu books- one had drinks and the other bites, so you can order items from them.
I had planned to just have a smoothie or two of different flavors……then I saw the Chicken, Rice & Chips list. I opted for Chips &Chicken and my friend Chicken Jollof Rice with a serving of Coleslaw salads, Kachumbari and Mango delight. Kachumbari- crafted with seasoned onion, tomatoes, green peppers, coriander and a hint of lemon. Coleslaw Salad delivers quite the punch, with a touch of mayonnaise, sour cream, onion, celery salt, salt, and a household secret sauce
Chicken, Rice & Chips
The presentation of the food was mouthwatering. We were very pleased with this.
The chips were nicely crispy- that's what I love. The Jollof rice and hot sauce were also a great choice- extremely flavorful.  Wondering how I found out about the Jollof rice? "Well, I trespassed onto someone's plate". The salads were on point- crunchy and very enriched to taste delicious.
The chicken was crispy and tasty on the outside – but not really flavorful on the inside. The hot sauce did the magic to give it some flavor & taste. I loved the fact that the Chicken was soft- I didn't have to fight with it at all on my plate.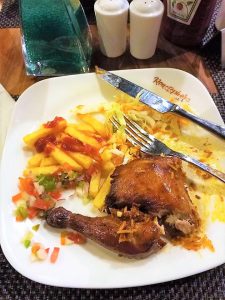 Smoothie Love- Mango Delight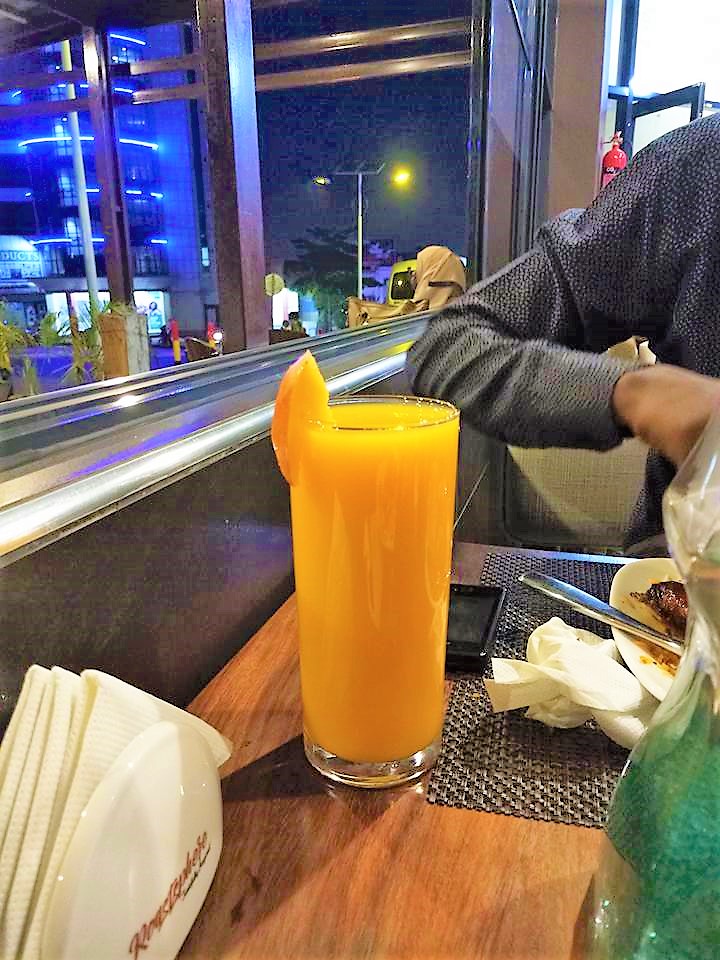 It was indeed a delight perfect for the evening treat. All I can say, "Get your way to this café and give yourself a self-treat"
Second Visit………,
We ended up going back after the following week for our second visit at the café. Ice cream and pineapple Jingle smoothie was the treat for the evening.
Ice Cream Buzz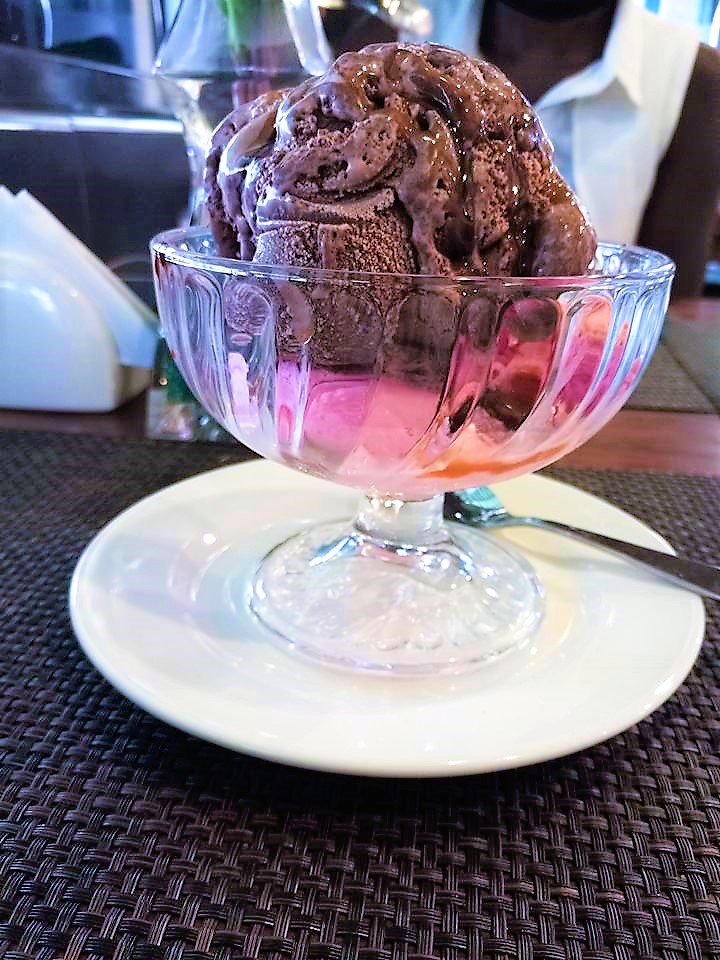 The ice cream did not disappoint-I loved its flavorful combination. The ice cream was delightfully silky, sweet and smooth. It was a double scoop of strawberry, Vanilla with a serving of whipped cream and strawberry, chocolate with a chocolate extraction melted to create one of the tastiest blends. I really enjoyed the ice cream and the overall flavor was great.
No regrets for the ice cream- try out the more interesting triple scoop.
Smoothie Love- Pineapple Jingle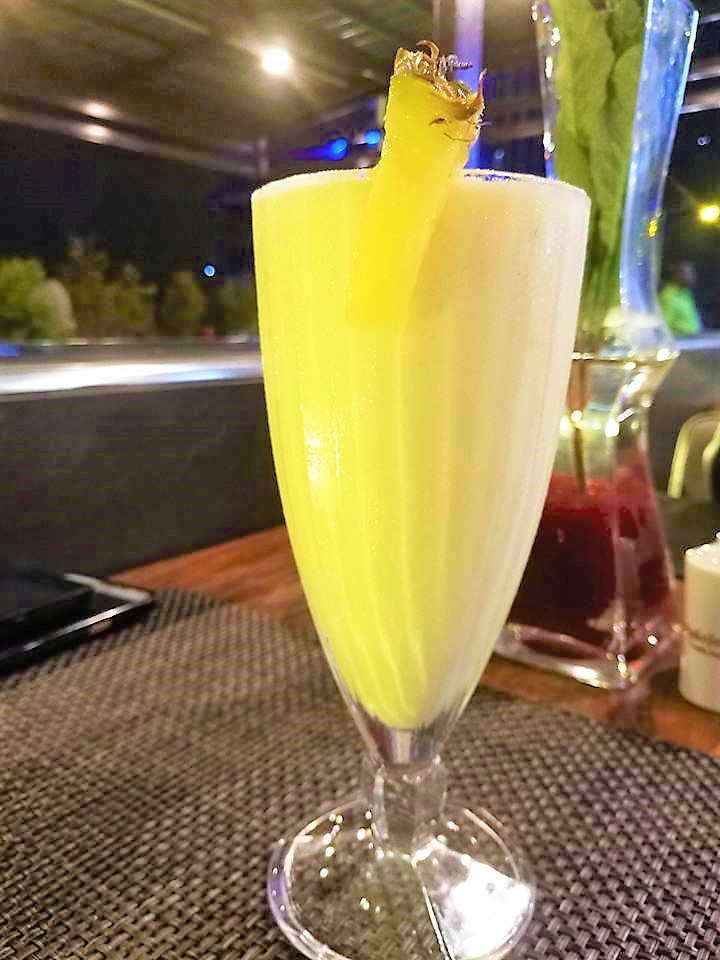 This freshly blended pineapple smoothie was so on point. It wasn't a mistake and I loved its delicious taste. Thick, sweet and smooth in the mouth down your throat.  Divinely treat!!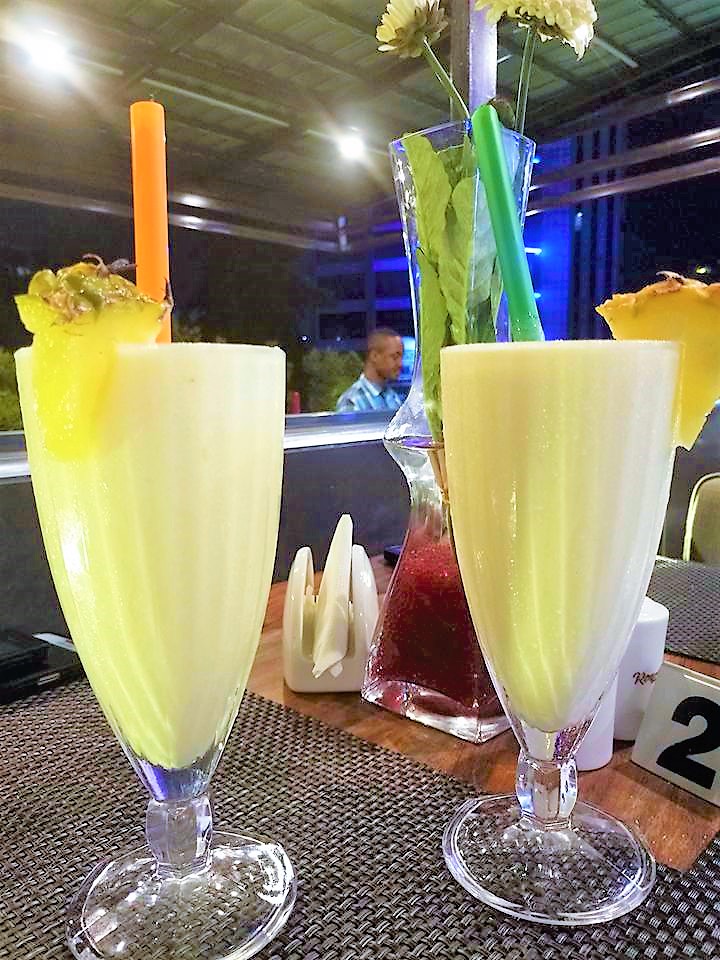 Have you ever visited Roastphere Café?
What was your dining experience at Roastphere Café?
I would definitely recommend Roastphere Café for all sorts of dinning to enjoy a lovely experience that feels special. Prices are affordable (Pocket Friendly) and menu has enough variety to your satisfaction. The servers are friendly, quick and professional. I loved my dining experience at Roastphere Café and will definitely go back.
Visit Roastphere Café @ www.roastsphere.com
 Thanks for stopping by. Please Come again!
Signed