RwandaAir offers a remarkable flight experience. It was my first time flying with this airline, and I was extremely thrilled. My flight was from Entebbe – Dar es salaam via Kigali. For me Rwanda air Economy class proofed to be the best choice in terms of convenience, costs (fare) and customer services.  I got a paper air ticket from a traveling company in Kampala and therefore couldn't check-in online, but nevertheless the check-in from Entebbe International Airport was so quick.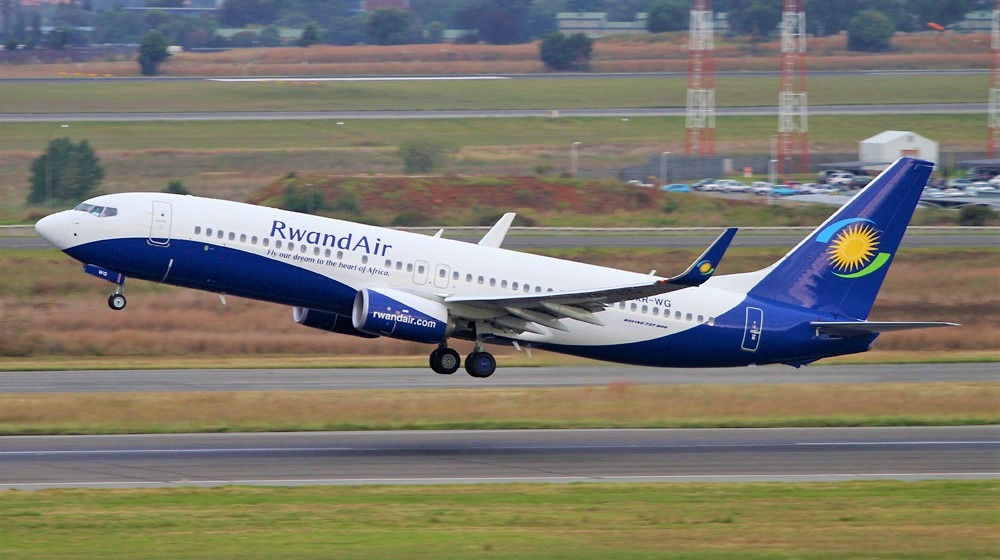 I left the departure gate on time at Entebbe International airport and departed 45minutes later, but reasons for delay was clearly communicated by the flight deck and apologies were made.  I had enough time to grab a cup of cappuccinoand black coffee at Entebbe International  airport lounge as I waited for my flight. However,my return flights were on time and worth mentioning.
Airplane: Boeing 737
Cabin class: Economy
Daytime: Morning
Food: Snack/breakfast
The airline is getting bigger and better in Africa offering spectacular services to both regional and international flights in Africa, Europe, Middle East and Asia. My early morning flight was a good experience with the airline offering a pleasurable flight.
Here is what to expect on flight with RwandaAir Economy Class;
The Seat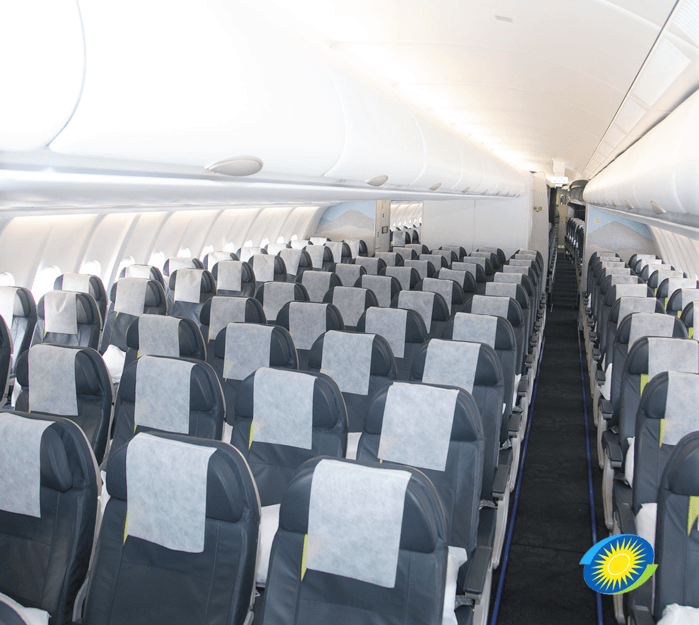 The seat is well-padded and quite comfortable. The seats are also fitted out in soft black leather with a white branded "RwandaAir" headrests covers.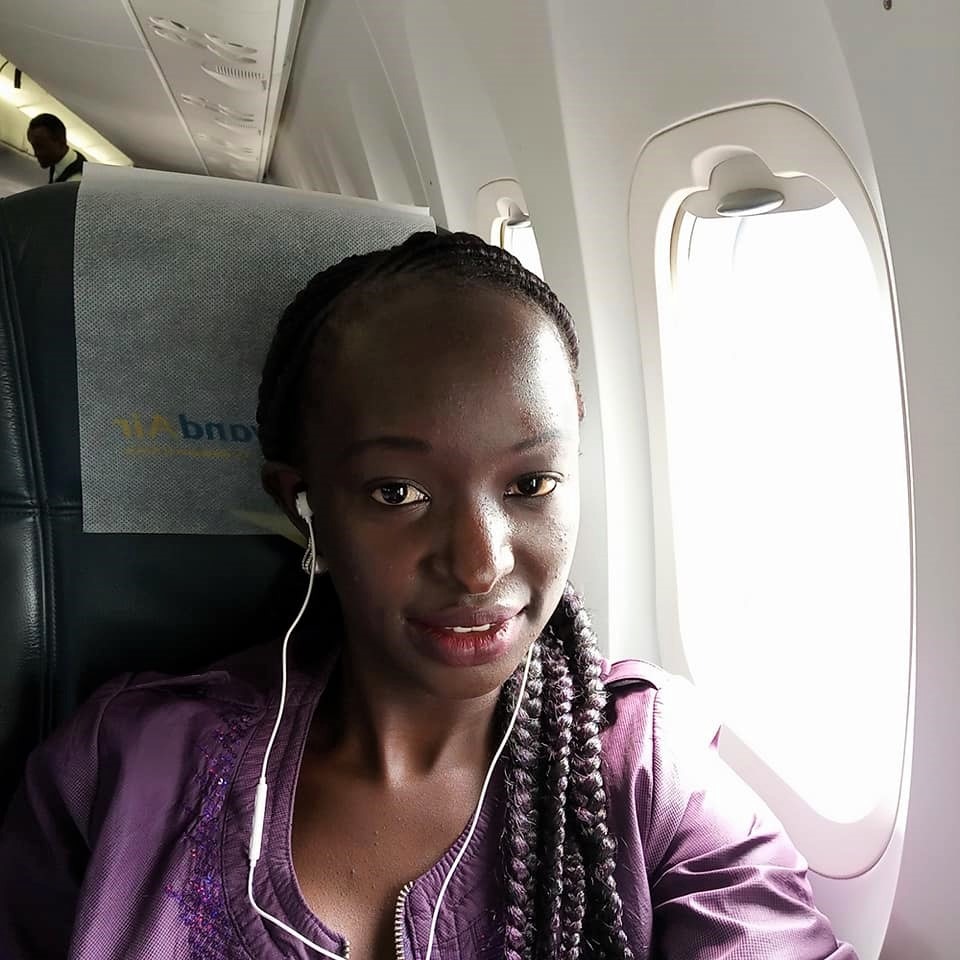 I got a window seat; the space felet comfortable with a slightly  generous legroom and a firm decent table that can move smoothly and hold a small laptop or tablet to use.
Food and Beverages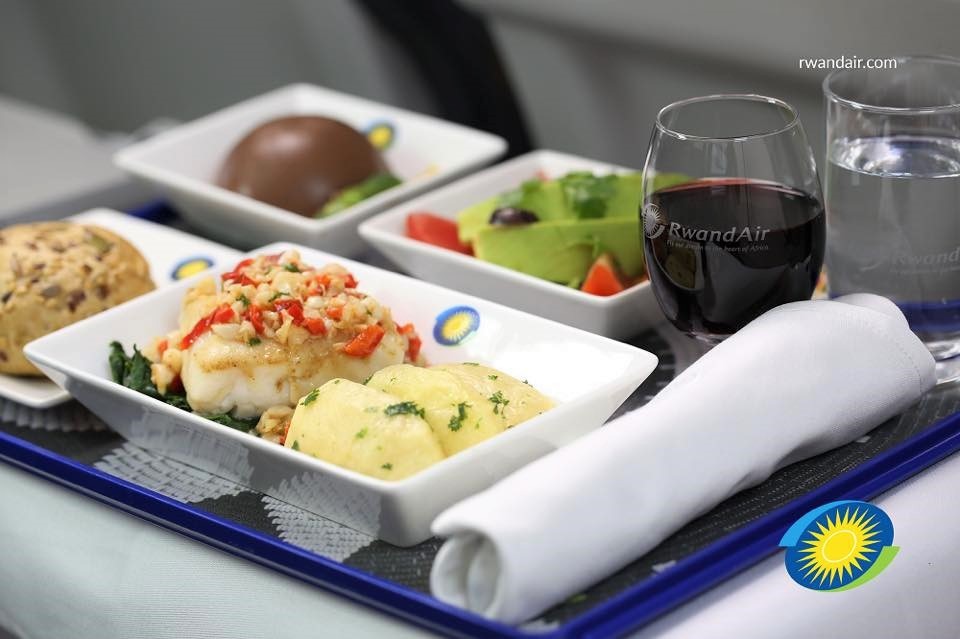 In-flight catering services begins promptly with a pre-meal drink of soft drinks, juices and sparkling water. A flight attendant graced with a gorgeous smile came down the aisle with a tray containing Passion fruit juice, apple juice and water. My choice was apple juice, favorite of all times- poured into the spotlessly clean glass.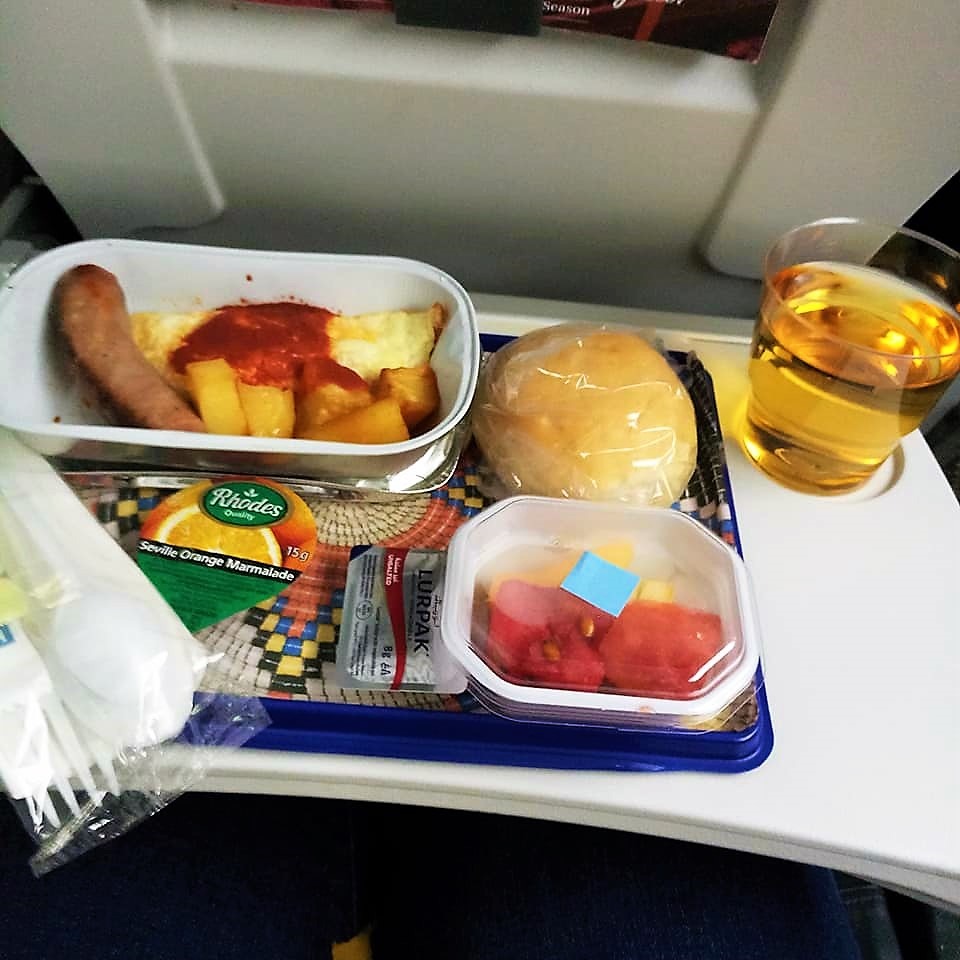 The main breakfast meal came shortly after and I was quite pleased with the food quality across the meal tray. The food tastes fresh and the cutlery pack has sachet of coffee and sugar for convenient use. The meal is well presented on a table mat crafted with the Rwandan rich culture and which was satisfactory.
Cabin & Toilets
Cabin is spotlessly clean, well maintained with a warm welcoming atmosphere as you step in and well presented with carpets and seat covers. My personal seat space was clean to a satisfactory standard and the tray for my seat was also dirt free.
Toilet is clean and amenities- hand towels, tissues and soap available. The cabin staff check the washrooms regularly to maintain its cleanliness.
In-flight Entertainment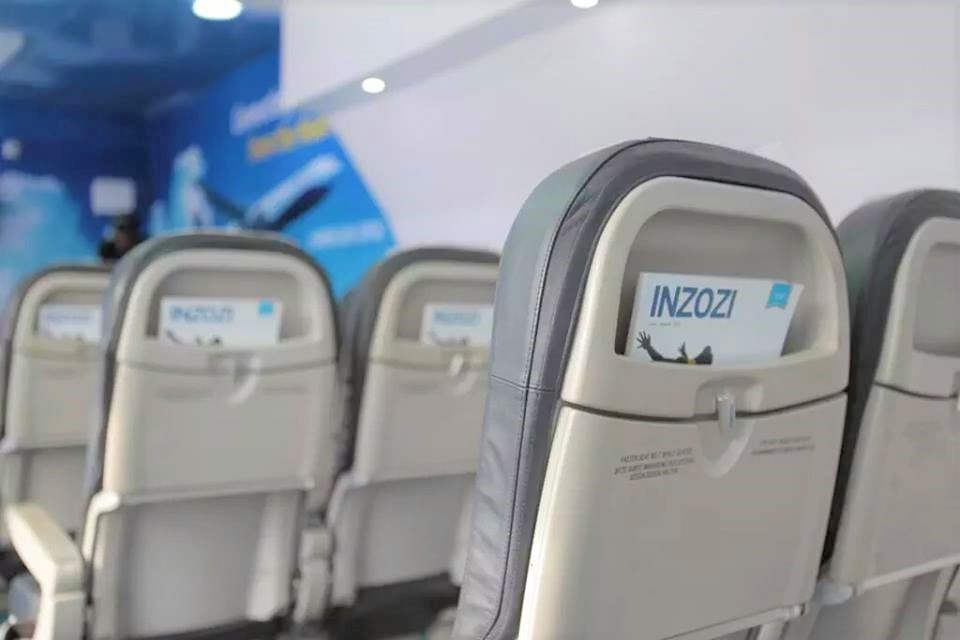 Rwanda air Economy class offers on board magazine stacked in the seat pocket. The actual content is rich and impressive- offers global guide to passengers in fashion, travels, Entertainment, Hotels and so much more. Get updated and entertained with the fully enriched Inzozi Magazine. There is a detailed buy-on-board guide and you can actually do your transactions on board.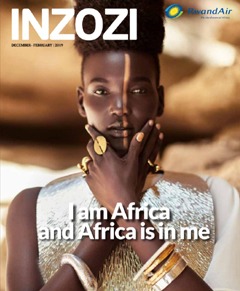 No TVs on board, in addition to that, you should bring your own entertainment not to get bored during the flight. I didn't bother checking the availability of WiFi, I just got caught up in listening to music on my phone and reading through the magazines.
Staff Service
The service on board felt very welcoming and professional. The cabin crew were amazing, helpful and friendly throughout the flight.
Communications and announcements made was clearly heard and safety checks/tips demonstrated before the airline set off, the staff are approachable and quick to response in case you needed assistance.
Overall Impression of the Rwanda air Economy class
My flight in Rwanda air was an absolute phenomenal experience. The airline offers professional services, comfortable seats and an impressively good catering – there was no real entertainment while on board.
I fully recommend flying with Rwanda air – I got to my destination safe and comfortable. Will definitely travel with RwandaAir again.
Book your RwandaAir flight now:
https://www.rwandair.com , reservations@rwandair.com